Oil & Gas
Aviation
Infrastructure
Others
Transforms company data into
dynamic management information
Business Dynamics
Investments in digital transformation create oceans of data which has little or no impact on the business bottom line and most data are either static or historical at the moment it is produced.
AnyPlan3D application services identify and transform critical business data by advanced contextualisation, fusion and structured modelling of business strategies which then delivers instant insight to future challenges.
What we all know is that things will change: markets, technology, businesses and the environment is constantly in change, it's dynamic.

Fusion Teams
Data fusion means integration of business data along the value chain. The fusion team is a multidisciplinary team that blends technology, analytics and business domain expertise.
Fusion teams are typically organized by the cross-functional business capabilities, business outcomes or customer outcomes that they support.
AnyPlan3D Fusion technology has a unique dynamic collaboration engine that enables people and teams to work concurrently, safely and efficiently in real-time.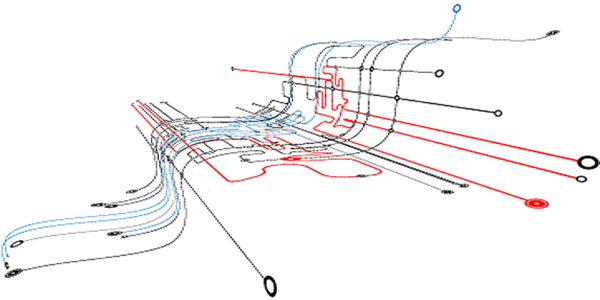 Fusion technology
Based on AnyPlan3D Cloud DevSecOps technology it provides support for Data lineage, BIG DATA solutions, AI, ML, AR and traditional enterprise software. AnyPlan3D uses contextualization based on rapid structured modelling by converting data to interrelated business objects in a time database. By extensive use of microservices and an "in memory database" it delivers outstanding performance.
Augmented reality (AR)
Experience a work environment where the facilities that reside in the real world are enhanced by computer-generated perceptual information like actual and planned activities and maintenance work orders across the facility. Walk into the planned work environment using your phone, tablet, laptop or AR smart glasses to experience and analyze tasks before execution.
It will change how you manage
AnyPlan3D improves everything in how you plan, schedule and optimize your business value by connecting your activities to a 3D model of facilities and processes. AnyPlan3D is a virtual twin that gives instant insight into the future, strategic scenarios and with collaboration not experienced before.

AnyPlan3D is the most sustainable enterprise management software in the world.
AnyPlan3D delivers a unique and instant insight into business processes and assets performance. It enables managers to minimize waste, reduce cost and resource usage with minimal environmental risk and plan for a safe operation.
Artificial Intelligence
AnyPlan3D introduces Artificial Intelligence (AI) for a broad range of advanced planning services by using pattern recognition and a Robot planner for advanced scheduling.
Artificial Intelligence (AI) technology is widely recognized as a tool that can play a key role in a range of enterprise applications, such as e.g., data mining, natural language processing, image recognition and mission critical systems as AnyPlan3D.
MAINTENANCE
Anyplan3D adds a new dimension to Maintenance Planning in ERPs. Asset Management Systems are no longer the Achilles heel.
Safest and most profitable!
There is no other software solution that delivers like this
If you combine AnyPlan3D with management excellence
Let's Work Together
Virtual 3D planning will change the way you manage, get in touch with us now.